Business Continuity Planning
An effective Business Continuity Plan goes well beyond the installation of fall-back equipment in a remote site. It is about having technical and operational procedures in place that allow you to restart your entire business process with minimal disturbance and full control.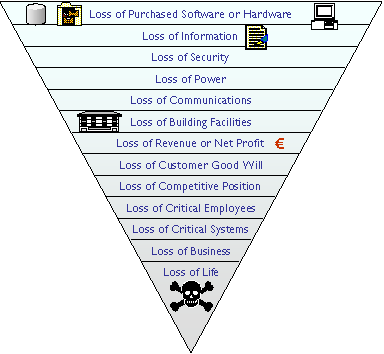 banksoft i³ Consulting has the necessary in-depth banking experience in both corporate and retail banking operations and therefore has the required business understanding to ensure that you get the professional advice you would expect from your partner in such a crucial project.
We can help you to define and implement disaster recovery and business continuity plans which can dramatically reduce your vulnerability. banksoft i³ Consulting intervention may include all or, if you already have some measures in place, part of the following activities:
Definition of a Business Continuity Plan
The BCP must be adapted to each customer's own specific objectives, must protect from unacceptable risks and losses, and avoid unnecessary costs.
With our experience in all types of banking matters, we are perfectly suited to assist you in the definition and specification of a successful business continuity plan. banksoft i³ Consulting is totally independent of any solution vendors. We can therefore guarantee that our service is appropriate to your needs and priorities.
The different steps for your business continuity planning:
Objectives
Defining with your Management the business objectives for recovery after a disaster or any type of failure, and translating these objectives into technical and operational specifications.
Documentation
Documenting in detail the critical business and technical procedures and their relevant IT systems. This comprises a description of current business rules and operational procedures, information flows, equipment, and other details.
Assessment
Working with your team to evaluate the current resistance to failures and disasters and to recognise what is required to meet the objectives (gap analysis) resulting in bank specific recommendations for action.
BCP Definition
Defining the rules and measures geared to guaranteeing the availability of offices, computer equipment, applications, and staff, for the continuation of interrupted business transactions. These rules should, to the largest possible extent, assist in avoiding problems and financial losses and in preventing customers and correspondents to suffer from lost transactions.
Project Planning
Establishing a plan for putting the accepted business continuity plan into place and elaborating a strategy for its implementation. This plan may comprise such options as internal implementation, outsourcing, or other customer-specific solutions.>
Implementation of a Business Continuity Plan
The implementation of a BCP comprises a great variety of activities that need to be identified, co-ordinated and executed. A point of major importance in the successful implementation of a BCP is to test its reliability and efficiency in a tightly controlled near-to-reality simulation. In addition "maintenance" of the BCP may be required as and when business procedures or parts of the ICT infrastructure have changed.
The project planning and management services of banksoft i³ Consulting are perfectly suited for this part of a BC project, whether you decide to execute the implementation in-house or subcontract the implementation to a third party provider.
Our dedicated services include the following:
Coordination
Coordinating the implementation to ensure that all parts of the plan fit together and achieve the expected results. Our role is to ensure and monitor the seamless integration of all measures throughout the various participating units and to ascertain that the plan perfectly meets both your requirements and the planned timeframe and cost budget.
Tests
Specifying a variety of meaningful tests designed to prove efficient functioning and reliability of the program. Planning and monitoring their execution and controlling test results. Recommending the BCP for your final acceptance.
Maintenance
Proposing measures and coordinating their implementation with a view to updating the BCP in line with changed business procedures, modified job descriptions, evolving banking rules, changed commercial strategies, or modified IT architectures. The aim is to avoid pitfalls after any element of the business environment has changed since inception of the BCP.
Why choose banksoft i³ Consulting ?
The business consultants from Banksoft are your ideal partners for helping you to define and implement business continuity procedures and policies, regardless of whether you are a multinational corporation, a domestic retail bank, or any other type of financial service company.
Our experience in the areas of DR and BC planning in different business areas includes such critical data dependent businesses as banking, telecommunications and financial service providers.
The in-depth banking experience that many of our staff have gained in senior positions with international banks and SWIFT make us your ideal partner, with a business background and understanding that ensure you get precisely the service you need for this vital program, be it the full range of our advisory services or only for a part of your BCP project.
We have a variety of service packages tailored to the size and requirement of all types of banks and financial service businesses, packages that will meet both the business and commercial needs of your specific operation.
banksoft i³ Consulting - your partner.